How Window Treatments Can Transform Your Space
May 19, 2023
Window treatments can be big drivers in the design of any room.
More than almost any other single design element, window treatments can have a monumental impact on the way a room looks and feels and window treatments have a big impact on a room's overall "success" or failure in terms of overall design.

Why are window treatments so important in design?
No matter the window treatment style you design or select, your window treatments surround one of the biggest architectural details in any of your rooms….your windows. Windows are expensive. They can also be dramatic. And it's not just windows. You have to think about doors door; especially glass doors or sliding glass doors.
If you have a view, how you integrate window treatments into the space becomes even more significant. Ask any builder or architect and they'll confirm that homeowners pay a significant amount of money for windows; all of that great glass in your home's architecture.
If you have decorative glass, unique window designs or arches the design of the treatments becomes even more important.

When Do Window Treatments Matter Most?
Unless you are doing Modern Minimalist, in which case you want a barely treated window, you should leverage the power of window treatments to turbo charge any design style and room.
Window treatments are your room's game changer.
For just about every design style, and no matter how simple or layered your treatments are – any room, without window treatments, in just about any design style (other than Modern Minimalist) looks and feels undone, underdone, bare, sparse and cold.
No matter how much money you spend on all of the other room's furnishings, if you stop short of doing your window treatments, your room will simply feel unfinished. The money, effort and time spent on all of the other room's appointments will falter if your window treatments are either non-existent or wrong for the space.
Here are some "Rules" that may help in shaping your choices and decisions.
How Window Treatments Transform Spaces:
Create Architectural Interest
If you love design, then you know when it comes to window treatments, you need to toggle between your personal design style and window treatment trends. Correctly selected and created, your window treatments transform traditional windows into beautiful architectural details.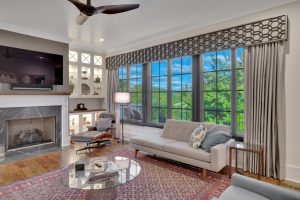 You can literally transform the standard traditional windows if you design your window treatments well.
This is a truism that works in every design style named above that thrives and completes with treated windows.
Create Rhythm
You can use window treatments to create an exciting layer in a room that provides and drives a visual rhythm.
Strategically intended rhythm in the window treatments moves the eye through the room and with repetitive design elements creates a "rhythm" throughout the room. Visual rhythm not only moves the eye, but also, through its repetition, it says "look at me."
Visual rhythm in window treatments create a sense of importance in a room. Every Time.
But Window treatments are among the easiest and most powerful ways you can drive a striking rhythm in a room – from restful to eye catching, especially in a heavily windowed room.
Star of the Show or Back up Singer
Window Treatments can play a big role in your room's design – big bold and integrative (pulling all of the design pieces together) OR quietly dressing the beautiful space in a more subtle way. Star window treatments are dramatic and use bold color or patterns. The more subtle treatments also play an important role in finishing a space but in a more supportive way.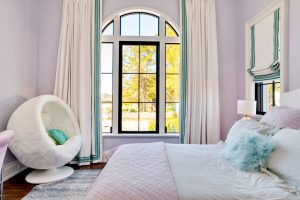 Make this decision early and follow your plan.
Additional Considerations
Texture is important in any room design and varied textures is key. Window treatments can offer an element of texture – or alternative texture – in a space
If you have a room filled with iron or wood you may want to opt for a softer fabric drapery or Roman shade or layers of both to help to soften the overall feeling of the room. This is often the case in kitchens where most of the elements are wood, tile or metal (like the hardware). Adding a soft top treatment or fabric Roman shade at a window can help create a warmer and much more inviting space.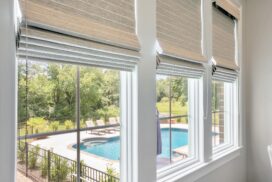 That Finishing Touch
When planning your design or build project be sure you add a budget for window treatments. Your home and rooms will need that finishing touch. The impact of window treatments to update, transform or enhance any room cannot be overstated. If you're not sure how to dress your windows don't hesitate to reach out to an experienced professional like High Country Drapery Designs — or your favorite Interior Designer. We would love to help you plan, create and execute your perfect design.
High Country Drapery Designs currently serves: Atlanta Georgia, Chattanooga Tennessee, Knoxville Tennessee, Nashville Tennessee, Greenville South Carolina, Cashiers North Carolina, Jasper Highlands Tennessee and the surrounding metropolitan areas.