Natural. Organic. Sustainable. Trends for 2023
Jun 14, 2023
As noted at the Spring High Point Market this year, one of the simplest 2023 window treatment trends is to integrate and implement the use of organic materials. Natural organic material is being used in so many different ways now whether it be wood throughout the home construction design like butcher block counters, wood & tile being integrated together into floors or natural stone being used internally on focal points like fireplaces, foyers and, of course, counter tops. We love the idea of bringing natural elements into the home through window treatments as well. Natural organic material like bamboo, reed, grasses and wood introduces lots of texture and an earthy feel to your home. Elevate your otherwise flat, neutral palette and add interest with window coverings made from organic materials. And take your style from ordinary to extraordinary!
Woven wood shades also come in so many different neutral colors from black to white and every neutral inbetween including light to dark grays and taupes and browns. In addition, there are many different patterns available in the design of the shade. Many of these don't look like earthy organic material at all – but they are. PLUS these shades offer so much flexibility in terms of overall functionality. You can choose cordless and/or can even choose the liner you would like to help control light and privacy.
When layered with drapery panels, there's no need to open and close the gorgeous drapery when woven wood shades are available to easily manage light and privacy.
Best of all, they can be motorized for ease of use, convenience and security.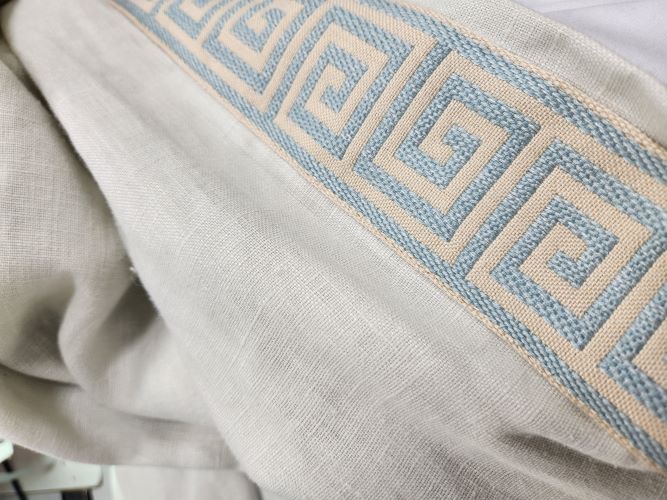 The Pros and Cons of Luxurious Linen
Natural organic fabrics are also readily available for draperies. One of the most popular drapery fabrics we've seen this year is linen. Linen is made from flax plants and it's a wonderful natural product. However, Linen does have its challenges. Because of its natural fibers it expands and contracts with humidity. So, over time your draperies can become longer because they're holding water. With the additional weight, the draperies can stretch and lengthen permanently with time. So we do recommend a blend with a lower level of linen to retain the integrity of the drapery itself.
One additional environmental consideration and an additional 2023 Window Treatment Trend–this year- is sustainability. Many product manufacturers now offer responsible manufacturing and recycled products. While linen and woven woods are made from readily available and sustainable products, Homeowners want quality durable window covering products that provide energy efficiency and insulation in addition to a beautiful aesthetic. Our products offer long-lasting quality and will look incredible in your home for years to come.
High Country Drapery Designs currently serves the Southeastern US including: Chattanooga Tennessee, Knoxville Tennesse, Nashville Tennessee, Ooltewah Tennessee, Greenville South Carolina, Asheville North Carolina, Cashiers North Carolina, Jasper Highlands Tennessee and the surrounding Metropolitan areas.