What Experts Know About Hanging Window Treatments
Jan 16, 2023
When choosing, creating and hanging window treatments, there are many different details to consider: light, ease of use, privacy and, of course, the design element in your home. Here are our tips for important considerations when choosing the perfect custom treatment.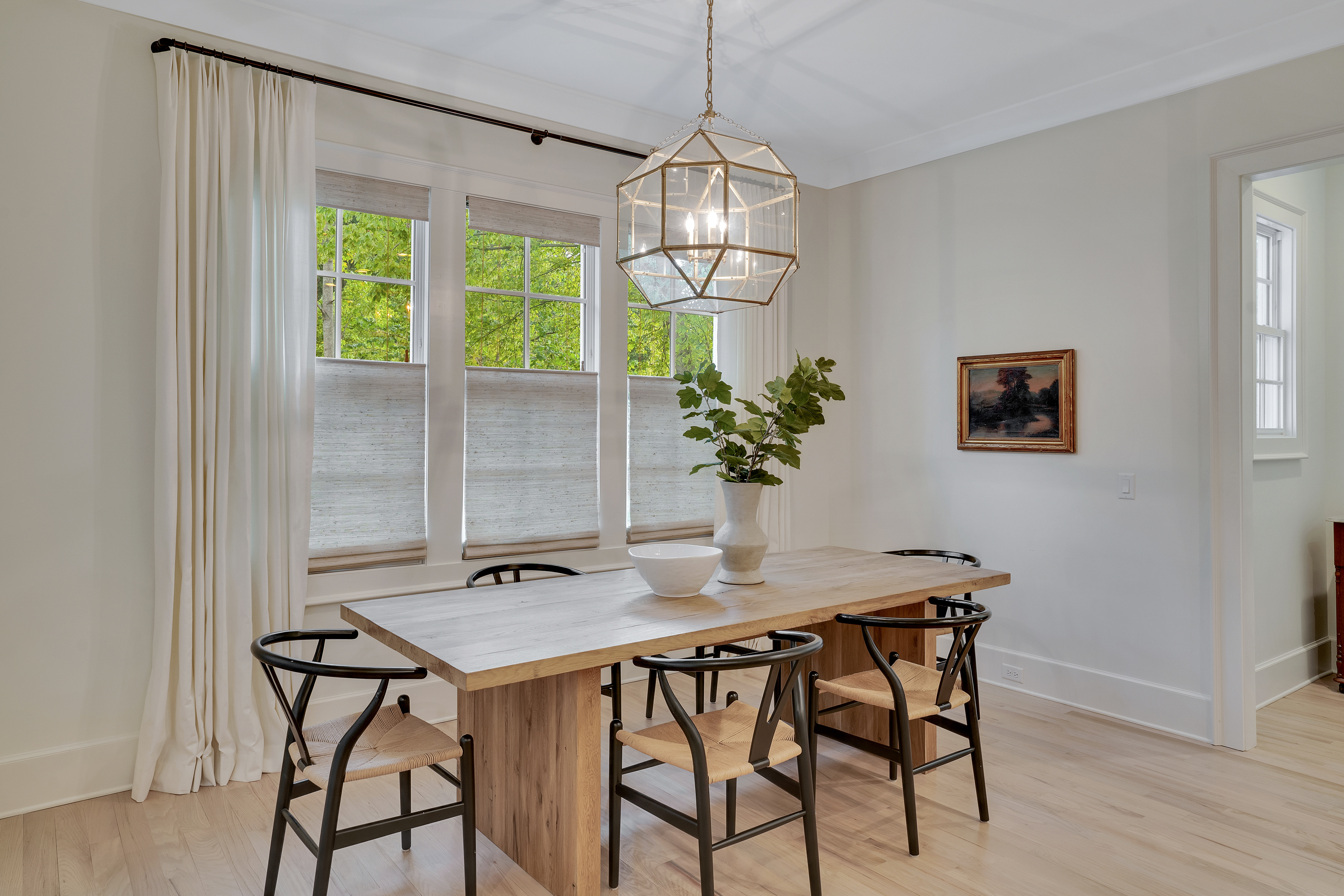 1)Hang Curtains High and Wide
Make your space look bigger and more luxurious by hanging drapes at least 12 inches above the window frame or all the way to the ceiling. Also try extending your curtain rod out 3 to 6 inches on each side for maximum effect. Your room will look bigger and the ceiling higher when this is done.
For a two-story window, the impact is truly dramatic.
Drapes that rest right above the frame shorten the window and allow less light to flow in, which can give the entire space a smaller darker look.
2) Layer Window Treatments
Designers almost always include at least two window treatments — whether it be plantation shutters framed by drapes, wood blinds paired with a pretty Roman shade or blinds flanked by gorgeous draperies. Layering offers a variety of benefits: better insulation, flexibility in opening/closing the treatments (example, you can just open and close the blinds but leave the draperies on each side open), and it turns windows into a true focal point in your room and home.
There's no reason to "overlayer" however. A few simple layers are usually best creating flexibility, privacy, insulation and beautiful aesthetics in your home.
3)Take Curtains to the Floor
A common mistake many make is purchasing store-bought curtains without first measuring the height of the wall. For a tailored look, drapes should puddle slightly, kiss the floor or hover slightly above. As our owner Jill Ballew says: " A pen should be able to roll under the drapery."
4)Opt for Plantation Shutters
A good window treatment adds style, but a great window treatment becomes part of your home's architecture. When choosing blinds or indoor shutters, splurge for wood or faux wood varieties with wide slats. These upscale treatments may cost more up front, but they can increase the value of your home in the long run.
5)Consider Curb Appeal and the View from Outside
One of the big trends right now is to have black window frames. When draperies are closed, however, and white liners are pressed against the black frames, the overall look from the exterior of the home isn't the best. It's important to consider how your home will look from outside as well when installing new window treatments. A painted plantation shutter, blind alternative or neutral liner on a drapery may look great from the outside as well as from the inside while offering decorative appeal and privacy.
6)Use Multiple Patterns
Using 2 complementary patterns together in a space (like damask window coverings and hand-painted wallpaper) can create a fresh new look and feeling that tends toward to feel more modern despite the traditional prints of each individual element.
7)Experiment with Trim/Embellishments
A beautiful and/or unique trim or embellishment on a more traditional Roman shade or drapery can become downright gorgeous reflecting a unique style that is all your own.
8)Treat each room like its own part of your home's total story.
Each room can have a unique look – with its own independent style of window treatments – while making an important contribution and adding continuity to the entire home.
9)One rule doesn't fit all cases – or windows.
It takes a great eye and a creative thought process to determine what treatments are best in each independent scenario.
10)Don't forget your privacy.
Those wonderful fluffy, billowy and airy sheers may be perfect during a bright sunshiny day. But at night, you will have no privacy whatsoever. That's where those layered options, again, can come into consideration. It's important to consider your privacy needs when choosing your window treatments and how the window treatments will provide that privacy day or night.
If you're looking to work with an expert in window treatment design, creation and execution contact us today at High Country Drapery Designs. We would love to help you create a perfect solution to meet your specific needs.