Crafting Custom Window Treatments That Elevate Home Interiors & Exteriors in Waynesville, NC
As a home designer, you want to ensure your clients can take great pride in their homes once your work is done. And when you need custom window treatments that bring a "wow" factor to any home in Waynesville, North Carolina, you can count on High Country Drapery Designs. We're one part custom window treatment store and one part interior design assistant, and we look forward to helping you elevate your clients' homes in more ways than one!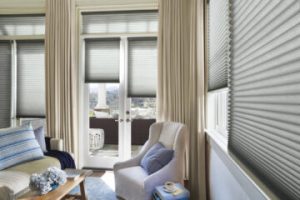 Stunning Custom Window Coverings
High Country Drapery Designs can create some of the best custom window treatments using products sourced from well-regarded manufacturers. With top-of-the-line products, we can design high-end custom window treatments with a virtually limitless amount of customization options. And if your client wants motorized or hand-operated indoor and outdoor treatments, we can make it happen.
We offer:
Soft Window Treatments
We can design exquisite drapery for interiors and exteriors, top treatments, Roman shades, and more. Plus, we can make custom-designed, 3D-printed decorative grilles for your cornices.
Hard Window Treatments
There is a very good chance that we have the hard window treatments you're looking for. Our large selection includes:
Interior shutters
Horizontal and vertical blinds
Roller shades
Cellular (honeycomb) shades
Woven woods
Window film
Outdoor shades (including insect shades, patio shades, and exterior solar shades)
Beyond Custom Window Treatments
What else can High Country Drapery Designs make? Consider our custom-made soft furnishings, which include:
Bedding
Pillows
Indoor and outdoor cushions
Banquettes
Upholstery (including headboards)
What's more, High Country Drapery Designs can assist you with our project management service to ensure peace of mind and pride of ownership for your clients.
Let's Talk About Custom Window Treatments
Interested in our custom window treatments and other helpful services for designers in Waynesville, NC? Get in touch with High Country Drapery Designs today to begin.