12 Tips For Choosing The Window Treatments
Feb 24, 2023
When creating the perfect window treatment, there are many options and design elements to consider. The first thing you need to know about window treatments is: they're not just for windows. Doors, outdoor spaces and even porches can benefit from a spark of drama. From Roman shades to pinch pleat drapery panels, shutters, and blinds, the possibilities for windows and doors are endless.
The key to finding the best window treatment is to allow the design of the space to take the lead. Determine your functional objective (for example: privacy, light filtration, etc) and then create from there. Window treatments can be used to both blend into and/or enhance your design. A good window treatment will need to accommodate your space, your functional needs and your design simultaneously. In most cases, for example, you're not going to use heavy drapery in a bathroom where you just don't have the space nor would you necessarily want those hanging in a more humid environment.
When the balance between function and design is reached, you've found the perfect window treatment for your space.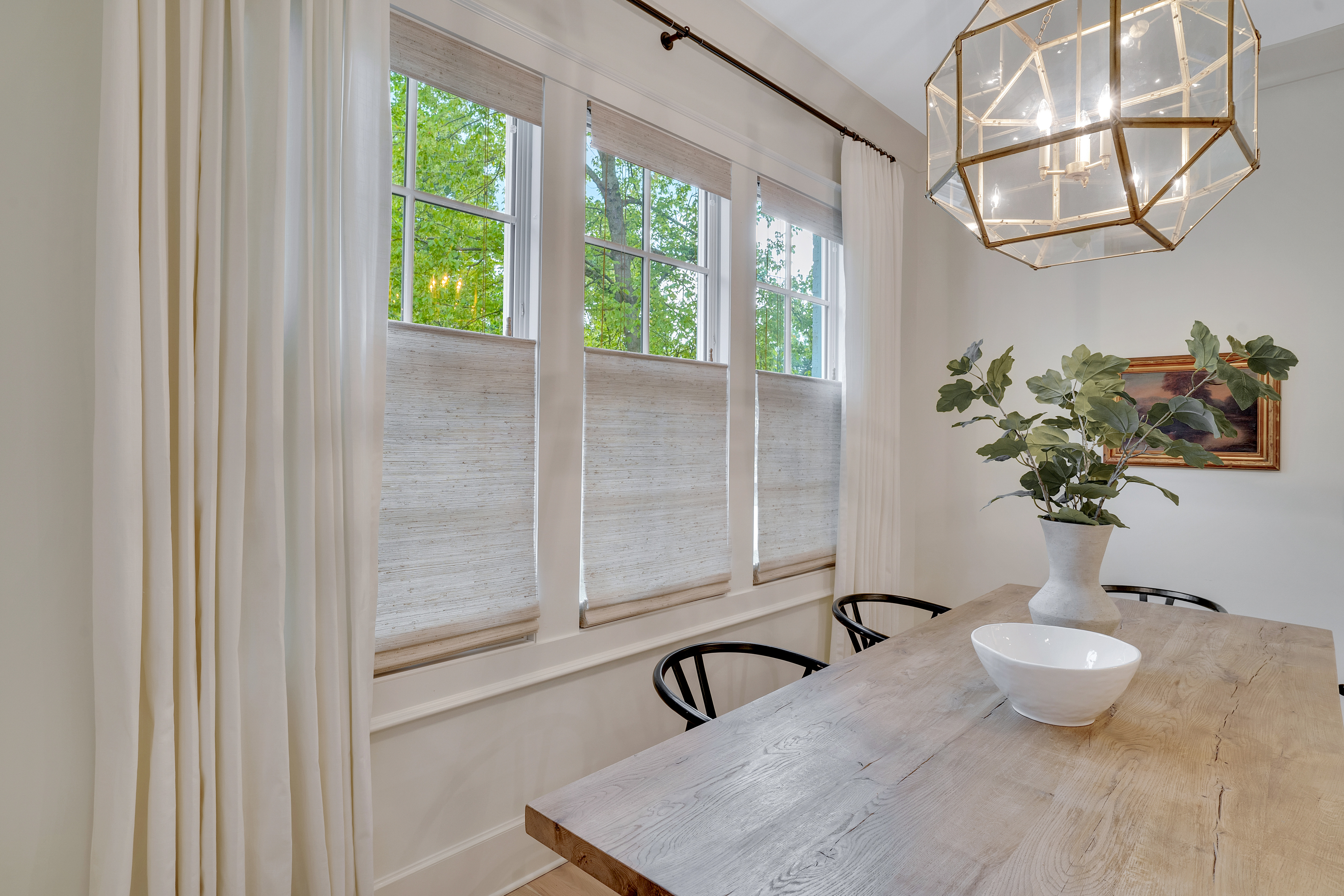 1)Layering is Important
The combination of drapery and shades is a great choice. A layered approach can bring warmth and texture by creating a more casual feeling than drapery alone. Conversely, if you want to introduce filtered light with a woven wood shade but don't want the space to feel too casual or sparse, drapery panels can be added to elevate the look of the room. Layering also allows drapery panels to serve strictly as a design element by remaining fixed on each end of the window while the shades are used to managing the functional needs.
2)The Great Outdoors
Many people screen in their porches but you can also enclose the space in shutters that can be opened for the view and fresh air … or closed when privacy is needed or that Southern sun hits. Unlike screens, color can play a part in the look and feel while taking your curb appeal up a level. Allowing shutters to open and close maintains a consistent warm and open feeling versus simply keeping the shutters closed completely.
We've also created and installed outdoor draperies around patios. So when your friends and family are gathered outdoors cooking on the grill, you can enjoy your privacy.
3)The Flipside
A special consideration for draperies is the lining. Window treatments that pool on the floor have the potential to show a bit of lining, so why not make it pretty? The other consideration is how the drapes will be viewed from the outdoors. Against jet black window frames, a white lining may not be optimal. Using a decorative lining emphasizes an attention to detail that will keep your draperies a cut above the crowd. Depending on what type of curtain header you choose, the draperies can be entirely reversable so you can more easily swap your style for the season.
4)The Case for Sheers
When you don't want to obstruct the views or stand in the way of even a single ray of sunshine, sheers are the way to go. They provide privacy but blend into the background keeping the space light and airy.
5)Go Earthy
Natural elements like woven wood style shades ground the design while creating warmth and texture. From color, pattern, texture, silhouette, and more, the possibilities for mixing and matching texture and color are endless.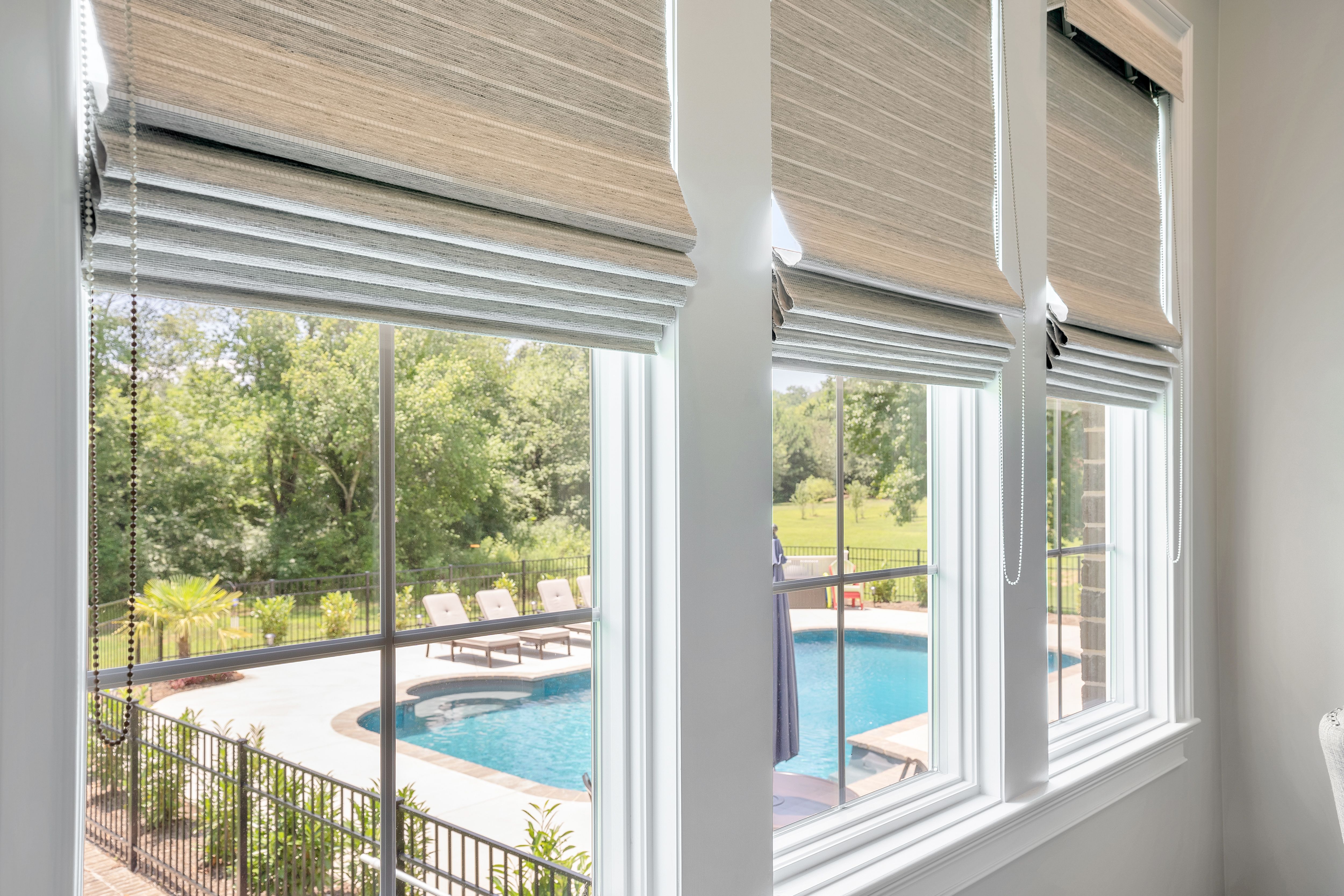 6)Romans To The Rescue
If you have a crisp, clean design but can't forgo the window treatments, consider a flat Roman shade. It will keep the lines sharp while providing maximum privacy when shut. It can also act as a subtle way of keeping the space from feeling too stark; particularly when a beautiful pattern or design is incorporated into the fabric. Roman shades are flexible functional treatments that are perfect for so many different situations and they can be easily installed on doors.
7)The Case For Café Length
Café curtains aren't just for the kitchen. We've used this special length in a reading nook where the view overlooked the picturesque city and mountains. But in the afternoon, the strong Western sun was too much for the space. Café length curtains were the perfect solution and hung just above the window seat. These curtains were then paired with a Roman shade even more insulation and ease.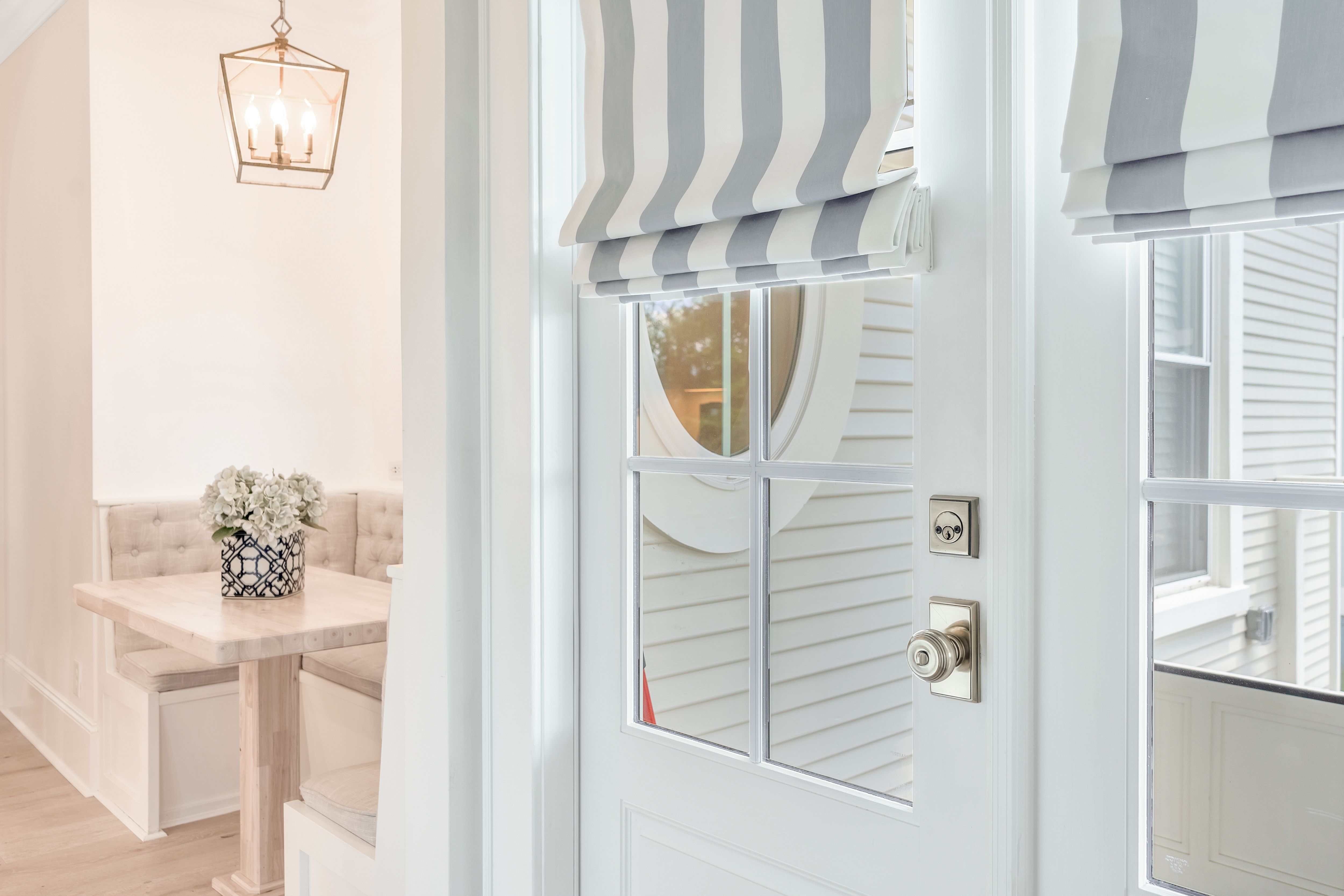 8)Don't Forget the Doors
Window treatments are for doors too. When completely opened, they provide nearly unobstructed views but, when closed they create much-needed privacy.
9)Create Design Details
Window treatments can sometimes be used to hide an unsightly view or cover up design flaws, but they are just as effective at highlighting – or even creating – architectural details. We've used decorative tableaux with several clients to enhance the drama of large windows while also allowing us a platform on which to install motorized shades. We've also used tableaux to create a more modern upholstered cornice on a wall of windows creating an architectural enhancement and drama that had not existed.
10) Create Definition
If you have a wall of windows or doors, consider adding a unique cornice or breaking up your panels to create definition. Without window treatments, the wall could also seem a bit stark or severe. Draperies create a softer, more feminine finish, but without obstructing the views or details.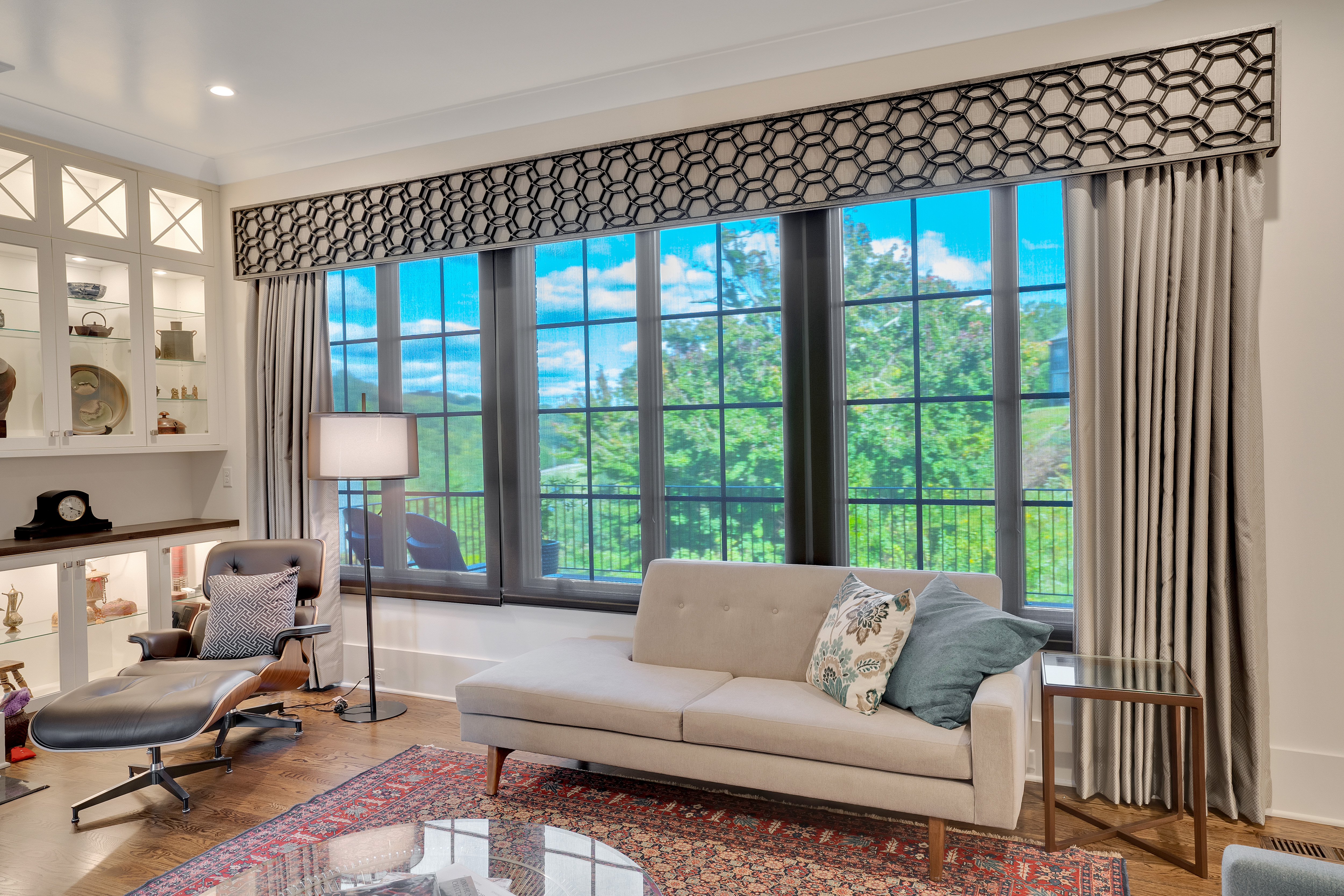 11)Pay Attention to Detail
Trim, heading, style, inside- or outside-casing mount, and even floor presentation length can change the look of a window treatment entirely no matter what type of panel, curtain, or shade you're working with—so consider them all. A pleat-style heading, elegant trim, and barely floor-skimming length create elegance and a long-line look.
12)Creating the Illusion of Larger Windows
If your windows are on the smaller side, you can create the impression of a larger window by selecting a Roman shade that is hung outside the trim or casing. This will work particularly well if the window casing is painted the same color as the wall.
If you're not considering how your window treatments can give the finishing touch to your space, you're missing out on an opportunity to enhance your design in so many ways.