Top-Quality Outdoor Shades Keep Harsh Sunlight & Pesky Pests Away
On any gorgeous day in the Southeast, it's tempting to spend time outside. Who could pass up the chance to lounge, entertain, eat, or play on the backyard patio? The only problem is that, without the proper treatments, nothing's stopping annoying insects or harmful UV rays from crashing the party. High Country Drapery Designs has the solution for designers looking to solve this problem for homeowners: high-end outdoor shades from InsolRoll that we can customize to suit your clients' needs.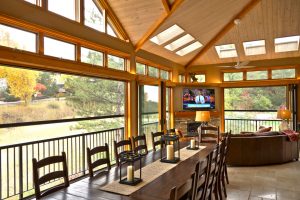 Available Types of Outdoor Shades
At High Country Drapery Designs, we'll be pleased to help you meet your clients' needs with three types of outdoor shades engineered to bring both style and substance to any outdoor living space:
Insect Shades
From gnats and no-see-ums to wasps and mosquitoes, there are plenty of bothersome bugs down here that can make any outdoor activity unpleasant. Luckily, you can change that for your clients with motorized or manually retractable insect screens designed to keep all of those uninvited guests away. Plus, some variations of insect shades feature solar screen fabric for added sun protection.
Patio Shades
Your clients can create shade in their patio area whenever they want with retractable patio shades. Specially designed to reduce the harsh glare of sunlight without completely eliminating visibility, these outdoor shades are perfect for any patio and can be motorized or hand-operated.
Solar Shades
When homes are positioned in such a way that they frequently deal with unimpeded sun exposure, it's important to consider protecting what's inside the house from the patio. Exterior solar shades, which are mounted on the outside of a home's windows, absorb heat and sunlight to increase homes' energy efficiency and protect furniture from sun damage.
Get Started Today
To learn more about these outdoor shades and our services for designers in the Southeast, contact High Country Drapery Design today. Don't forget to ask about our project management service!