Ways to Manage Sunlight, Heat and Bugs So You Can Enjoy Your Summer
Jun 01, 2023
On any gorgeous day in the Southeast, it's tempting to spend time outside. Who could pass up the chance to lounge, entertain, eat, or play in the yard? And what about all of the homes with decks, gazebos and patios with incredible views? You can't help but want to spend every free moment soaking in the surrounding natural beauty. Unfotunately, however, as Winter turns to Spring and Summer, annoying insects and/or harmful UV rays may also be becoming problems around your home. But not to worry. High Country Drapery Designs has the solution for homeowners. We partner with a company who specializes in high quality beautiful durable shades designed to meet your specific needs so you can enjoy Summer to the fullest.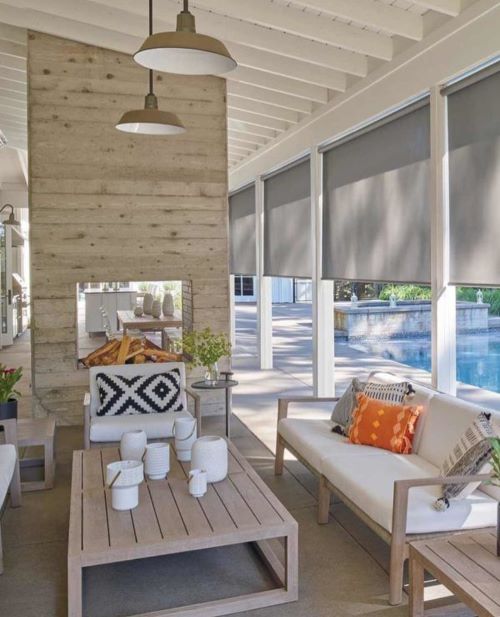 Available Types of Outdoor Shades
Three distinct types of outdoor shades are available to bring style, beauty and function to any outdoor living space:
Insect Shades
From gnats to wasps and mosquitoes, there are plenty of bothersome bugs that can make any outdoor activity unpleasant. High Country offers a variety of shades in a range of colors that will help keep the uninvited guests out. Plus, some variations of insect shades feature solar screen fabric for added sun protection. These shades are available as traditional manually operated shades or as motorized shades.
Patio Shades
For those with beautiful views that may need sun glare and sunlight protection, this may just be your perfect solution. Homeowners can create shade in their patio area whenever they want with retractable patio shades. Specially designed to reduce the harsh glare of sunlight without completely eliminating visibility, these outdoor shades are perfect for any patio, deck or balcony and can be motorized or manually operated.
Solar Shades
When homes are positioned in such a way that they frequently deal with unimpeded sun exposure, it's important to consider protecting what's inside the house from the great outdoors. Exterior solar shades, which are mounted on the outside of a home's windows, absorb heat and sunlight to increase homes' energy efficiency and protect furniture, artwork– and other personal items – from sun damage.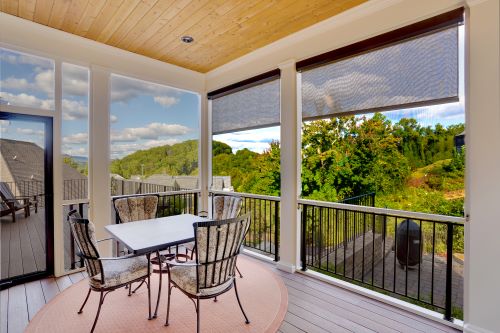 Get Started Today
The shades we offer are available in a wide variety of colors and styles. So you're bound to find something you love – while they work hard to meet your needs. Once you have them installed, you may just wonder how you ever lived without them. To learn more about outdoor shades and how you can squeeze every drop out of Summer, contact High Country Drapery Designs today.
We currently service the Chattanooga Tennessee, Atlanta Georgia, Nashville Tennessee, Knoxville Tennessee, Jasper Highlands Tennessee, Greenville South Carolina, Asheville North Carolina, Cashiers North Carolina and Chickamauga Georgia areas and their respective surrounding Metropolitan areas.