Turn Your Patio Into a Beautiful Private Outdoor Oasis
Jun 02, 2023
Take your patio from an occasional respite for summer barbecues and poolside gatherings to a year-round outdoor oasis.
There are several ways to do this and adding outdoor draperies is a quick and easy way. They provide sun protection and privacy while simultaneously adding style, texture, color, and patterns that can instantly transform the look of any outdoor space.
Even better – outdoor draperies can be made with outdoor performance fabric – repelling moisture and resisting fading. So your beautiful design can last.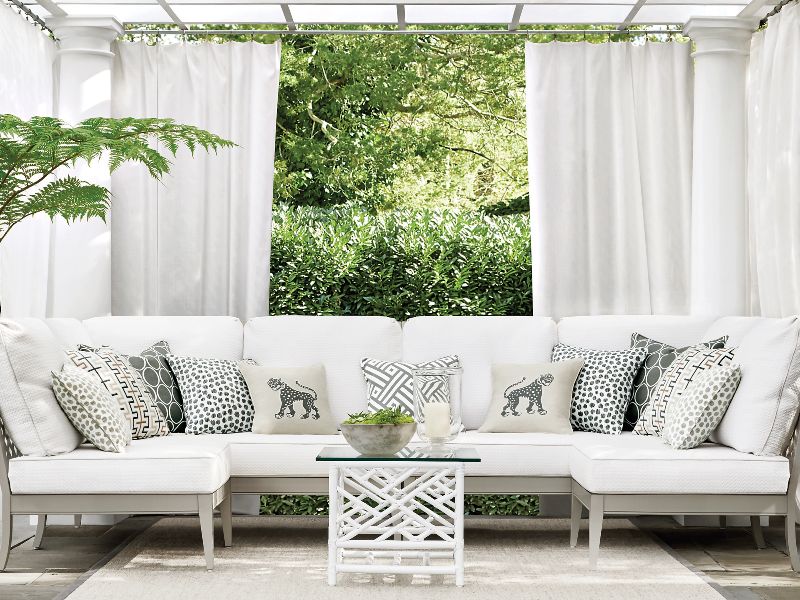 Creating Your Outdoor Draperies
Creating outdoor draperies is not unlike creating interior draperies. And it's an extension of your interior design. So you can use your own personal style combined with functional objectives to create your perfect oasis. Start by choosing your drapery rods and hardware – sturdier options like wrought iron or aluminum are better for windy climates and traditionally will 'weather' the storms.
The Design
When it comes to choosing outdoor draperies, you have a lot of options. From lightweight polyester sheer curtains to all-weather high performance outdoor fabric draperies, you can find something that fits your style and budget. For a classic look, solids or muted stripes will tend to blend with any space. Conversely, if you want to make a bold statement, colorful patterns or geometric prints can add depth and texture to the area. And it's important to consider both the interior design of your home as well as the exterior aesthetic so your outdoor draperies and space feel like a natural extension of your home.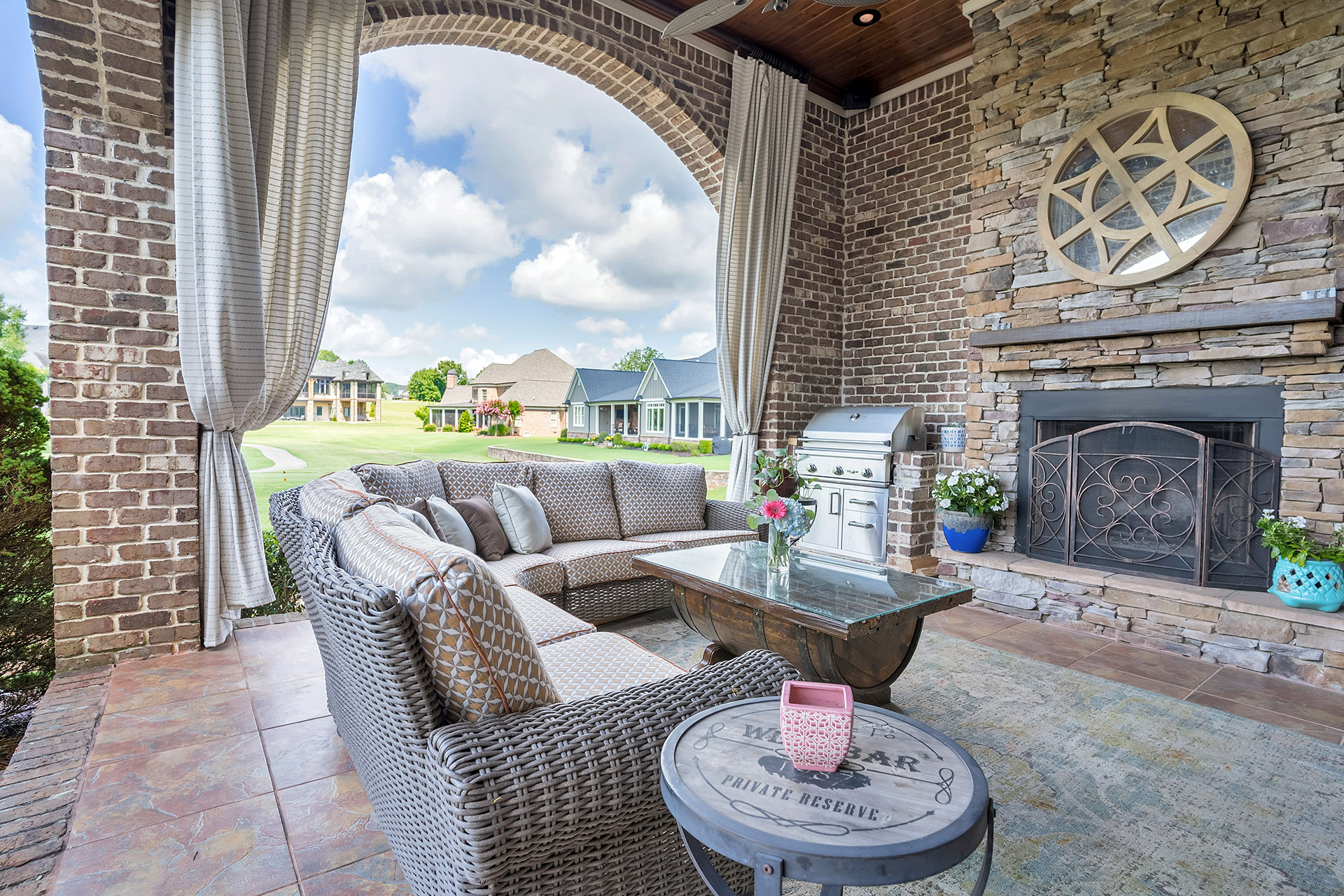 Benefits You'll Enjoy
In addition to extending beauty to your outdoor space, you'll benefit in the following ways
– Sun Protection: Outdoor draperies can help protect your furniture, flooring, and guests from harmful UV rays. Strong UV rays can fade furniture, discolor carpets or rugs, and cause skin damage.
– Privacy: If your outdoor space is near a busy street or neighbors, outdoor draperies can provide privacy when relaxing or entertaining outside. You can even add blackout lining to the back of your curtains for an extra layer of privacy.
– Temperature Regulation: By providing shade on hot days and blocking out the cold on chilly nights, outdoor draperies can help regulate the temperature in your outdoor living space. This means that you'll be able to enjoy the outdoors for a longer period of time.
– Wind Block: When appropriately hung, outdoor draperies can also help keep the wind from blowing into your patio or outdoor space. This is especially useful if you plan to entertain outdoors on windy days.
– Style: No matter what type of decor you add to your outdoor space, draperies can enhance and extend your style and home design. With so many colors and prints, you can find something you love that fits your style, meets your functional needs and adds a touch of sophistication to your outdoor space.
Why You Should Consider Outdoor Draperies for Your Outdoor Space
Outdoor draperies are a great way to extend comfort and style from the interior of the home to the outside space. They also address functional needs: like providing shade and privacy while protecting against harmful UV rays. And outdoor draperies can create a more sophisticated space for entertaining guests or relaxing with family.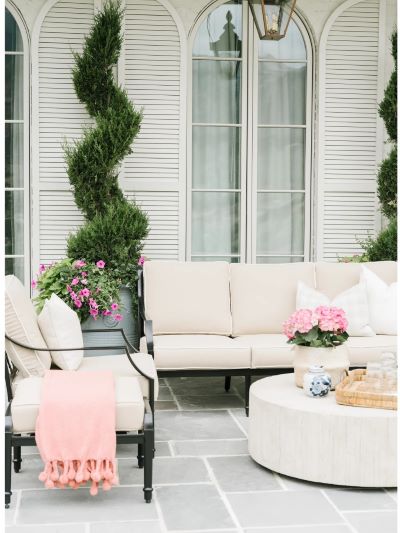 Adding Custom Upholstered Furniture
You can also add custom upholstery to your space to create an even more comfortable and inviting place for friends and family to gather. For a touch of glam, add a chaise lounge so you can recline and soak up the sun. Or opt for a cushioned sectional set on the patio to encourage conversation and connection.
No matter what furniture you choose, complete the look with custom cushions made from high-quality outdoor materials. Outdoor performance fabrics are fade-resistant and water-resistant. You'll be able to showcase your personal style without sacrificing quality.
And….. we reupholster furniture. So if you have outdoor furniture already but would like to update and/or refresh it, we would be happy to help you do so. We can also create pillows for you to complement your entire design.
So whether you're looking to extend your home's interior design to the outdoors or are simply looking to create a beautiful more usable outdoor space, draperies and comfy upholstered furniture are a beautiful way to do it.