Motorized Window Treatments Continue To Be Big 2023 Trend
Jun 02, 2023
As we enter the middle of 2023, it's safe to say that Motorized Window Treatments continue to be a very trend in Window Treatments and Coverings this year.
When we first kicked off the year we expected this interest for ease, convenience and security to take off in 2023.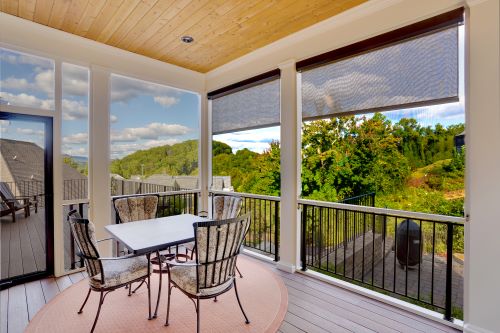 And we have not been disappointed. But it's not only Motorized Shades that are a big seller this year. Motorization of all types have become of big interest to homeowners across the Southeast. This year we're creating and installing:
Motorized Roller Shades
Motorized Roman Shades AND
Motorized Draperies.
In a Client's home in Greenville, South Carolina we recently installed Motorized Shades in the Primary Bathroom. The convenience of having this option for a window just over the tub is truly amazing. No longer do people have to stand in their tub adjusting their blinds. It's all done with the push of a button.
If you're interested in Motorized WIndow Treatments we would love to meet with you! We can created Motorized Window Treatments for interior treatments as well as for many exterior shades. Some of our Motorized Shades have been on timers to they close when the sun rises and open when the sun sets.
The possibilities and flexibility that can be achieved with Motorized Window Treatments is incredible and we would love to discuss your many options with you at your convenience.
Contact us today at: 706-924-2467.