Layered Sheers and Draperies – Why It's Recommended By Top Designers
Jul 25, 2023
There's a reason top designers like to layer sheer and blackout drapery. This design trick offers control of the light entering into a room, while also balancing privacy. Plus, it doesn't hurt that it offers a beautiful aesthetic finish – with sheer curtains bringing a calming, light and airy quality to a space.
Blackout curtains are great for fully blocking out sunlight and noise, perfect for a bedroom where you want to fully shut off from the outside world, or a snug living room that you want to turn into a cinema space. What's more, they help keep the heat in, a great solution for insulating during the winter and/or keep out heat in the Summer.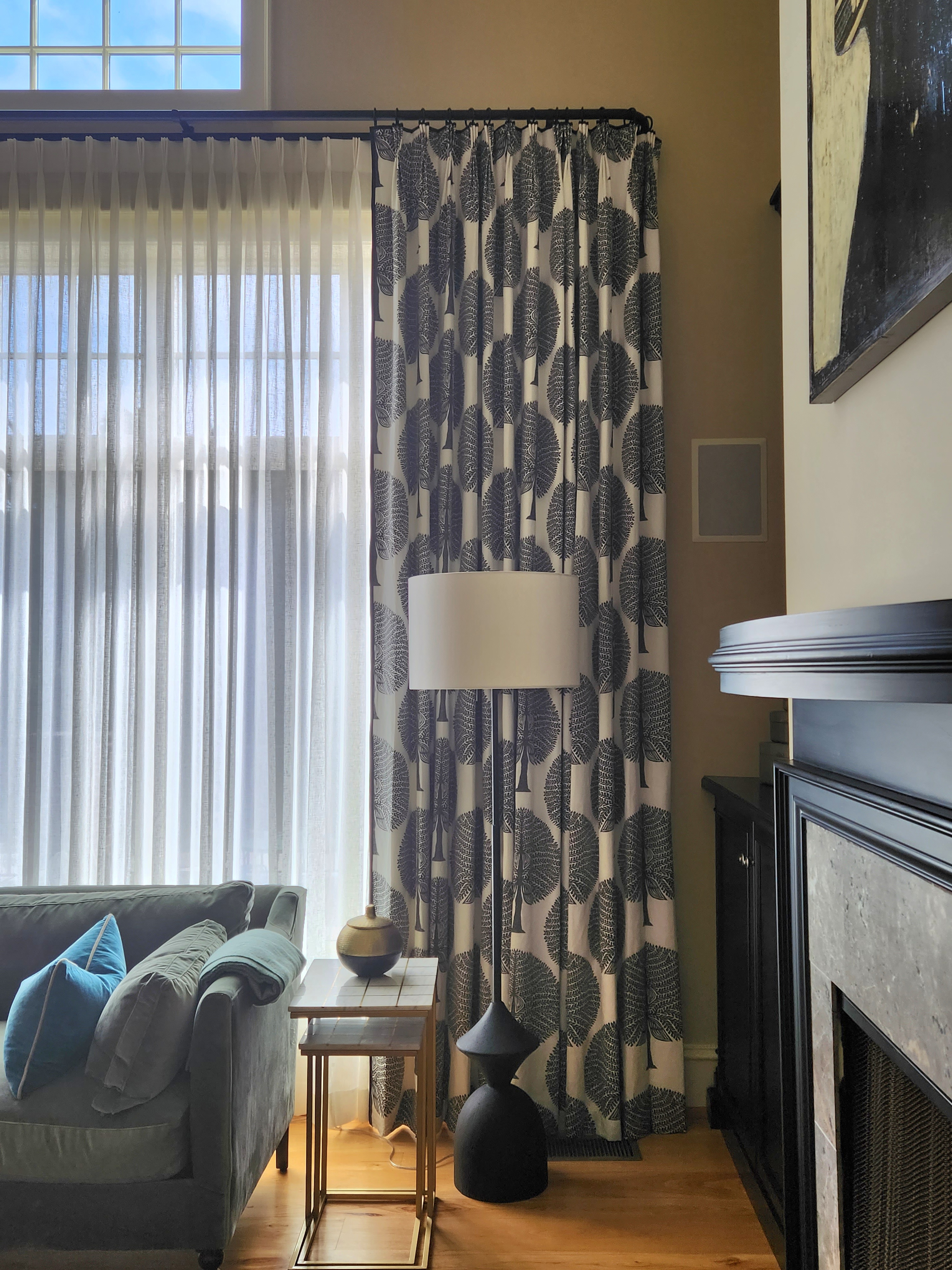 Yet, if hung without sheer curtains behind the blackout, it means you are limiting yourself to their full potential. Without sheer curtains, you commit to either full light in the room, or none at all. There is no in-between.
That's where layering sheers and draperies comes in.
So what's the best way to layer sheer and blackout draperies? Two evenly spaced tracks or rods are required so they can be operated independently. A double rod is a great purchase if you're looking to layer your drapes. This hardware is made specifically for layering curtains and provides the best functionality and sleekest look. Usually, the sheer is closest to the window and the heavier fabric is on the inside of the room so they are protected from sunlight. But there is no reason you can't play with this order and have it the other way around, especially if you have a beautiful linen sheer that you want to see.
If opting for traditional style, with the sheer curtain against the glass, make sure you hang the sheer curtain rod as close to the ceiling as possible. This will help maximize the amount of natural light in the room. It's also crucial to make sure that the blackout curtains are long enough to reach the floor so that they can provide maximum coverage.
Sheer curtains by themselves can give a beautiful airy look to a room. Silk, linen and other natural fibers tend to drape beautifully and also offer a lighter feeling while synthetic materials can look more formal. Sheer curtains are also often made from cotton.  
When choosing a sheer curtain, it's important to think about the look you want to achieve, what material will best suit your needs and what room you are designing. Are you creating a living room or bedroom? Cotton sheers are light and airy, while silk sheers have a luxurious look and feel. Polyester sheers are durable and less likely to wrinkle than other materials. 'Ultimately, it's up to you to decide which material you choose for your sheer curtains. Make sure they match your room's decor and provide the optimum thickness for the privacy you need.
It's also important to think about how the sun might damage the curtain material. Linen sheers are the most beautiful, but natural materials do fade and warp in the sun, so putting them on the inside mitigates that. Light color polyester fabrics can also help with this.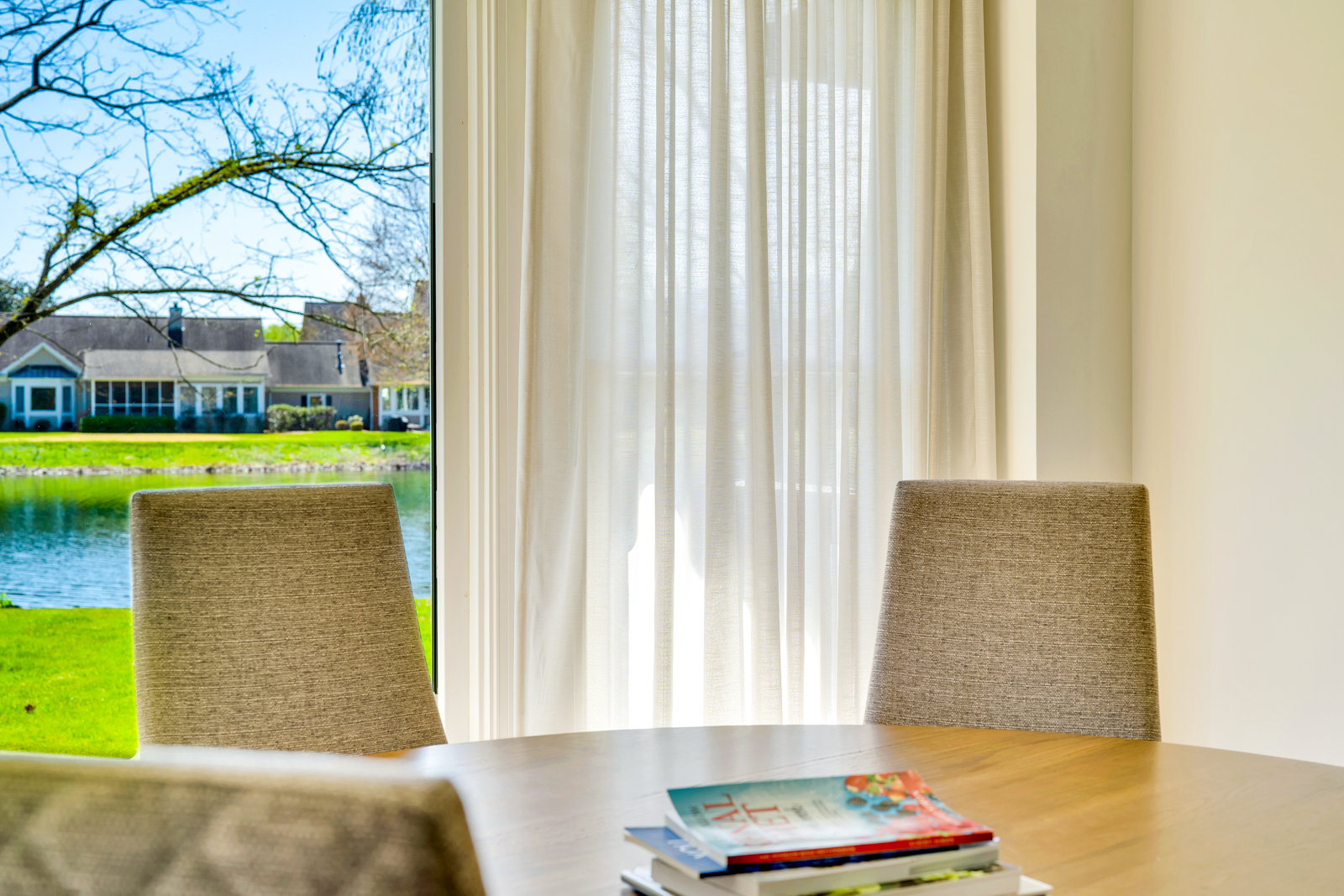 When considering blackout draperies in a bedroom, consider the contrast between the heavier curtain and the sheer material. Combining sheers with a drapery fabric that have contrasting textures can add depth and interest; while complementing other fabrics in the space.
Blackout curtains are meant to block light, so choosing the material is important. You'll want a heavy fabric that will not only keep out the light but will also insulate your windows in the winter and keep the heat in and/or keep heat out in the Summer. Cotton and linen are good choices but they may not be as thick as some other materials and may not be as durable. Linen is also known to stretch so a blend is key here.
When layering drapes, it's best to keep the sheer a light neutral in order to avoid looking busy with the outer drapes, which can then be any color or pattern.