Designing Stunning Custom Window Treatments for Homes in Lake Keowee, SC
Custom window treatments can elevate your home's interior in the Lake Keowee, South Carolina area. High Country Drapery Designs is just what you need—and even more. Why? Because with our elegant custom window coverings and the assistance of our project management service, we make it so easy for homeowners to create the high-end window aesthetics they desire.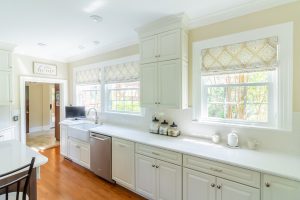 Only Creating the Best Custom Window Treatments
High Country Drapery Designs uses products from the industry's most renowned brands to design custom window treatments with a wealth of customization options available. You'll not only be able to give your client window treatments packing plenty of panache, but also the convenience of motorized indoor and outdoor treatments if they wish. High Country Drapery Designs can motorize any custom window treatment we make.
Choose us for:
Soft Window Treatments
High Country Drapery Designs is your source for interior and exterior draperies, top treatments, Roman shades, and more. We can also add a unique touch of flair to cornices with custom-designed, 3D-printed decorative grilles.
Hard Window Treatments
We have a large variety of custom hard window treatments for interiors and exteriors, which includes:
Interior shutters
Horizontal and vertical blinds
Roller shades
Cellular (honeycomb) shades
Woven woods
Window film
Outdoor shades (including insect shades, patio shades, and exterior solar shades)
Custom Soft Furnishings
Besides striking custom window treatments, High Country Drapery Designs can also make other unique pieces for a home, such as:
Bedding
Pillows
Indoor and outdoor cushions
Banquettes
Upholstery (including headboards)
And whether you're looking for custom window treatments or soft furnishings, High Country Drapery Designs' project management service can make your job easier and help you efficiently deliver the results your clients desire.
Contact Us Today
Want to learn more about our custom window treatments and other offerings available for Lake Keowee, SC, designers? Reach out to High Country Drapery Designs. We look forward to working with you!