The Experts Creating Attractive Window Blinds for Knoxville, TN, Homes
Window blinds don't have to blend into the background of a home. When done right, this window treatment can breathe new life into virtually any room and elevate the aesthetic. And whether you're an interior designer or a homeowner in Knoxville, Tennessee, you can trust High Country Drapery Designs for custom-made blinds that bring both peace of mind and pride of ownership.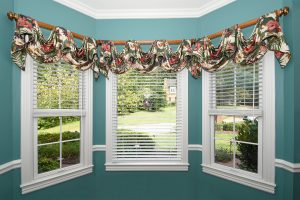 Unique Window Blinds for Any Home
High Country Drapery Designs is Knoxville's source for top-caliber window blinds, with products sourced from Hunter Douglas and expertly designed in-house to suit the homeowner's style. We offer horizontal and vertical blinds made from the following materials:
Wood – Our wood blinds come in 30 different stains, 10 different paint options, two size configurations, cordless options, and plenty of attractive designer finishes.
Fabric – These fabric blinds are essentially a cross between our custom drapery and vertical blinds, allowing you to darken a room with a look similar to that of drapes.
PVC vinyl – If you need durability, look no further than PVC vinyl blinds. Plus, these blinds come in room-darkening or semi-opaque varieties.
Aluminum – The inch-wide aluminum blinds we install are available in 20 different color options, so you're sure to find a look that suits a room.
Faux wood – For the look of wood without its price tag, our faux wood blinds are a great option. They're available in a variety of different shades.
What's more, High Country Drapery Designs can also add motorization to any window blinds we design and make their operation a cinch for any homeowner. And with the added protection of Hunter Douglas' generous warranty, any homeowner with these blinds can have peace of mind after their custom blinds installation.
Contact Us Today
Ready to end your search for the best window blind company in Knoxville, TN? Reach out to High Country Drapery Designs to schedule your appointment.