High Point Spring Market 2023 – Trendspotting
May 05, 2023
High Point Market Spring 2023 was a wonderful event … as it always is. Not only did we get to see and experience the incredible home décor trends anticipated for 2023 and beyond but we also attended educational seminars and speaking engagements in an effort to stay one step ahead of design trends; so we can act as an important resource for our clients moving forward.

Here are our Top Spring Market Takeaways:
1)COLOR – Big bold color continues to take over the interior design / home décor world. We have seen (and been reporting on that) that firsthand through rich saturated colors filling libraries and media rooms. Now expect color to play an even bigger role in 2023.
In addition to big bold blues, greens, reds and oranges expect warm browns and purple tones to become more predominant.
2)Natural Textures and Organic Elements – So far this year we've seen wood play a much bigger role in design trends; whether it be vanities, cabinetry or flooring and we've even seen marble mixed with wood. This trend will continue as will the search for more natural elements. Think Woven Woods. Woven Wood (used for shades) is made from a variety of grasses and even bamboo. Natural organic material like this will play a bigger role moving forward.
3)Rounded Edges – Design pieces and furniture will move from boxy with sharp corners to soft with curved edges.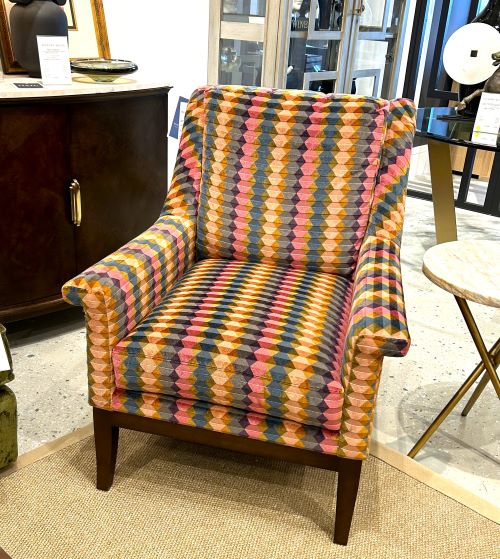 4)The 1970's Are Making A BIG Comeback – Snappy checkered patterns, vintage materials and bold colorful textiles will lead us forward in 2023. After so much greige and white, color-hungry consumers are ready for a big change and more fun in their homes.
High Point's Spring 2023 was so much fun. We can't wait to see what the Fall 2023 High Point Market will bring.