Custom Window Treatments in Asheville, NC
High Country Drapery Designs specializes in high-quality breathtaking custom window treatments.We offer a variety of treatments including: beautiful custom drapery, Roman shades, roller shades, solar shades, blinds of all types, motorized window treatments (that are integrated with your home automation system), top treatments, cornices and more.
Custom Window Coverings
Using products sourced from some of the leading manufacturers in the industry, we design beautiful custom window treatments that can perfectly fit the aesthetic of any room in a home. Plus, we're also able to add motorization to anything we create in order to make operating these window treatments so much easier.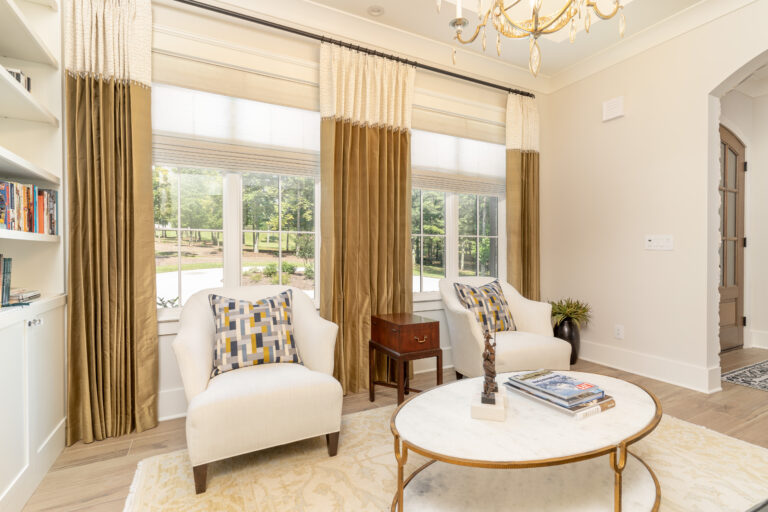 Drapery, Roman Shades, Top Treatments and More
We can create unique, elegant drapery for interiors and exteriors, as well as top treatments, Roman shades, and more. And if you need to add a touch of flair to cornices, we can make custom-designed, 3D-printed decorative grilles.
Shutters, Blinds and Shades
We have an expansive selection of hard window treatments to suit virtually any homeowner's tastes and needs. This includes:
Interior shutters
Horizontal and vertical blinds
Roller shades
Cellular (honeycomb) shades
Woven woods
Window film
Outdoor shades (including insect shades, patio shades, and exterior solar shades)
Soft Furnishings
At High Country Drapery Designs, we can make more than just the best custom window treatments in Asheville, NC. We can also custom make soft furnishings, such as:
Bedding
Pillows
Indoor and outdoor cushions
Banquettes
Upholstery (including headboards)
Interior designers can use our project management service to ensure that, no matter which of our products a client is looking for, the job goes smoothly from start to finish. After all, our main goal is to ensure that local homeowners feel peace of mind and pride of ownership with their custom window treatments or soft furnishings.
Contact Us Today
Learn more about High Country Drapery Designs and the custom window treatments we make to beautify homes in the Asheville North Carolina area. Reach out to us today to get started!
Take a peek at our recent projects: Instagram.